Daisuke Muranaka Conductor

In 2013 Daisuke Muranaka was appointed Artistic Director and Principal Conductor of the "Orchester AfiA", a newly formed symphony orchestra in Tokyo, with which he embarked upon a series of concerts and recordings in Tokyo and Yokohama.
Their intended repertoire includes Mendelssohn, Schoenberg, Mozart and a Beethoven cycle in 2014.
His most recent European performance was based on the theme of "Nature and Music". He continued this idea when in Italy, with the Orchestra Sinfonica Siciliana in Palermo, he conducted a "Sea" programme with Britten, Wagner, Mendelssohn and Debussy , and then, when in UK with the English Chamber Orchestra, he presented a "Moonlight" programme, conducting Schoenberg, Mozart and Britten with Yuri Bashmet as viola soloist.
Mr. Muranaka 's glittering career as a conductor first came into prominence in 1996, when he made his operatic debut in Italy with "Die Zauberflöte" in the Treviso Teatro Mario Del Monaco with only two hours notice! This was because of the sudden illness of Peter Maag.
Mr. Muranaka had a long collaboration with Peter Maag and was his assistant at the time.
Daisuke Muranaka has over 30 operas in his repertoires, and has conducted at some of the world's major opera houses including La Grand Teatro La Fenice di Venezia , the Teatro Massimo di Palermo, the Glyndebourne Festival Opera Theatre, the Theater St. Gallen, the Teatro Comunale di Treviso "Mario del Monaco", the National Theater in Tokyo and many others. Among which, in the newly opened Sicilian Teatro Massimo di Palermo, Mr. Muranaka's interpretation of "Manon Lescaut" received great acclaim. Norma Fantini was in the title role and a review by the Gazzettino di Treviso said; "Puccini must be conducted like this..".
After winning first prize in the "Mario Gusella Conducting Competition", Daisuke Muranaka was invited to conduct by many prestigious orchestras, including the English Chamber Orchestra, the Brussels Philharmonic , the NHK Symphony Orchestra, the Tokyo Philharmnonic, the Orchestra Sinfonica Siciliana, the Orchestra Toscanini, the Pomeriggi Musicale di Milano, the Orchestra del Teatro Fenice di Venezia, the Orchesta del Teatro Massimo di Palermo and many others. He also conducted many Italian premieres for contemporary composers such as F. Pennisi and H.W.Henze, gaining the composer's own praise for his interpretation.
His
performances have taken place in concert venues such as the Verdi Hall (Milan), the Palais des Beaux-Arts (Brussels), the Cadogan Hall (London), the Ueno Bunkakaikan (Tokyo) , the Teatro Massimo , the Teatro Politeama (Palermo), the Grand Teatro Fenice (Venezia).
Mr. Muranaka was also the founder of the "Yokohama OMP Orchestra" and the "Yokohama Opera Mirai Project" in Minato-Mirai Hall in Japan, and he became their Artistic Director and Principal Conductor. His long lasting collaboration with the opera producer, Michael Hampe, received rave operatic reviews and Daisuke Muranaka was awarded the prestigious "Yokohama Award" for his contribution by the City of Yokohama.
He enjoyed great success as a conductor in Japan after winning the prestigious " Idemitsu Music Award 2001" and he has worked with almost all Japanese Orchestras such as the NHK Symphony, the Tokyo Philharmonic, the Yomiuri Symphony, the Kyoto Symphony, the Nippon Century Orchestra, the New Japan Symphony, the Japan Symphony, the Kyushu Symphony, the Gunma Symphony, the Tokyo City Philharmonic and the Tokyo New City Orchestra.
Born in Kyoto, Mr. Muranaka currently lives in Tokyo. He studied International Relationship at the Tokyo University for Foreign Studies and conducting at the Musikhochschule in Vienna with K. Oesterreicher and L. Hager. His mentor was Peter Maag, with whom he worked in many Italian theatres.
His discography includes a recording of Rachmaninov 3rd Piano Concerto with Paquale Ianonne (Phoenix) and Schoenberg Transfigured Night with the Orchester AfiA(WAKA) that will be released in 2014. He has appeared in many TV and radio productions in Japan and in Italy and is also well-known as a radio commentator in Yokohama as one of the personalities on the FM Yokohama Classical Programme.
Daisuke Muranaka's future engagements include Mendelssohn's Ein Sommernachtstraum and Erste Walpurgis Nacht with the Orchester AfiA in Tokyo and the Beethoven Pastoral Symphony with the English Chamber Orchestra in London's Cadogan Hall in 2014.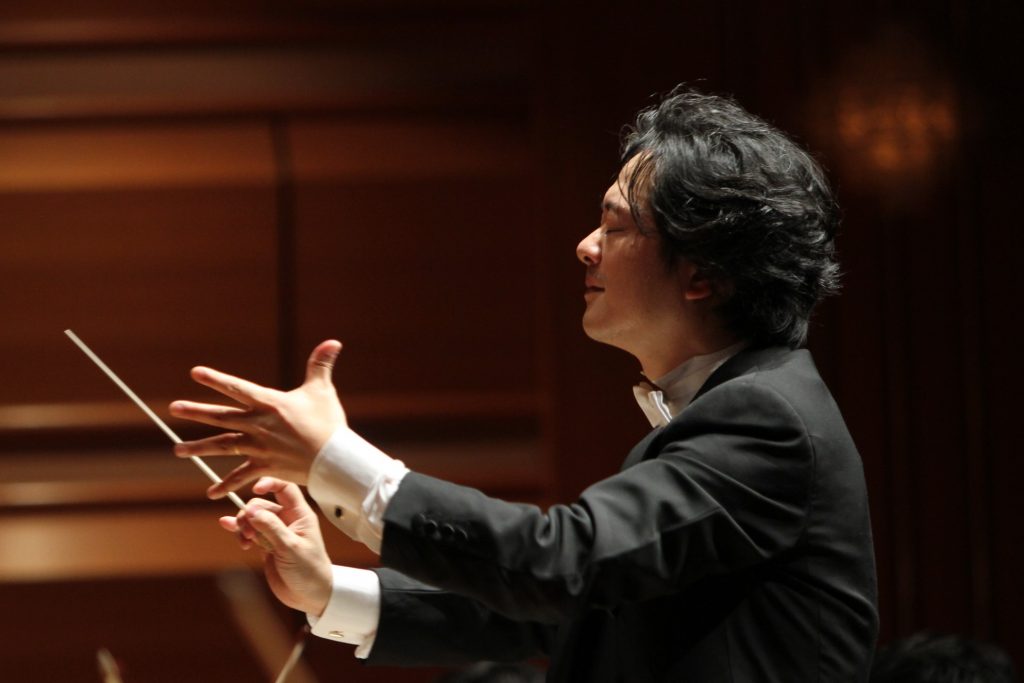 La lingua Italiana
Daisuke Muranaka
Nato a Kyoto, Daisuke Muranaka si laurea in Relazioni Internazionali e
la Lingua Tedesca alla Tokyo University for Foreign Studies e si
dipoloma in Direzione d'orchestra alla Musikhochschule di Vienna.
Durante lo studio ha vinto i concorsi internazionali "Mario Gusella" a
Pescara e "La Bottega" di Treviso. Ma la sua carriera ufficiale inizia
nel 1996 quando sostituisce Peter Maag in Die Zauberflöte a Treviso.
In Italia dirige al Teatro Massimo di Palermo (Die Fledermaus e Manon
Lescaut), il Concerto dell' Anniversario del Parlamento Siciliano a
Palazzo dei Normanni e al Teatro La Fenice di Venezia. Ha il suo
debutto nel 1999 con Tokyo Philharmonic avendo clamoroso successo
con musiche di Beethoven, Schubert e Brahms e ha vinto premi per
i miglior talento del paese del Sol Levante, dirigendo NHK Symphony
e Tokyo Philharmonic, e poi debutta con Teatro Nazionale di Tokyo
con Die Zauberflöte e Tosca. Ha fondato in Yokohama, la
seconda citta' Giapponese, la sua Orchestra AfiA nel 2006 , con cui ha
diretto numerosi Opere con il regista Michael Hampe, tra cui "il
Matrimonio Segreto", "Figaro", "Cosi' fan tutte"e " il barbiere" e
sono stati premiati tutti premi prestigiosi Giapponesi. Nel 2001 ha
fatto debutto a Brussels alla Sala des Beau Saal con Enigma Variation
di Elgar con Brussels Philharmonic. Nel 2002 ha avuto grande consensi
con Glyndebourne Opera in UK dirigendo "Don Giovanni". Dal 2006 ha
continuato di dirigere English Chamber Orchestra presso a Cadogan Hall
di Londra, e il Patron del Orchestra , Principe Carlo , ha donato il
titolo di "International Guest Conductor" per il suo miglior
esecuzione di Beethoven e Schubert. Dal 2013 ha continuato a Londra e
Tokyo serie dei concerti intitolato "Natura e Musica" e nel 2016
questa sua iniziativa e' stato scelto uno dei 10 migliori musicisti
nel "Classical NEXT" a Rotterdam per "Innovation Award 2016". Con la
sua Orchestra AfiA ha fatto numerosi incisioni, tra cui  Mendelssohn
sinfonia "Scozzese", "Italia"  e  "La riforma". Questa registrazione
continua con Schubert sinfonia " la grande" con cui ha avuto miglior
disco del mese nel 2016. Ora ha inciso tutte le sinfonie di Schumann e
uscira' nel 2020. Nel 2018 diresse Muranaka Concerto per 100 anni di
anniversario di Debussy  al Teatro Massimo Bellini di Catania. Al
Orchestra Sinfonica Siciliana ha fatto debutto nel 2011 con il
programma di Wagner, Mendelssohn ,Britten e Debussy.