去年ブログに
My Favorte Pianists ルービンシュタインという
項を書きましたが
その中で
グレン・グールド・リーダーという本を
紹介しました。。。
その本は当時原書(英語Faber & Faber 1984)を
ヤマハで大安売りしていて
買ったのですが。。。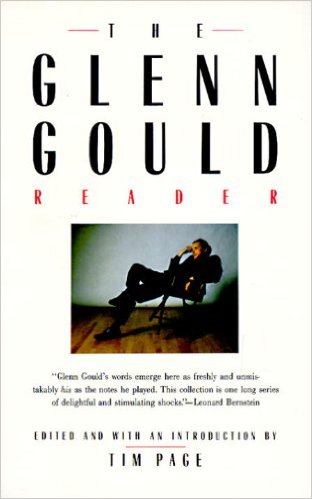 しばらくして90年代に訳本が出たように
記憶しています。。。
というか
その訳本が友人のKちゃんという
ピアニストからウイーンに送られてきて
びっくりしたように記憶してます。。。。
そのヤマハで買った英語原本
非常におもしろいので
ここに紹介しておきます。
訳だと
ニュアンスとか
結構変わってくるし。。。
また
今訳本がローマにあって
原書が横浜にあるという
非常に奇妙な現象なわけです。。。
演奏家がかかえる諸問題の
核心を突く場面が多々ある
非常に興味深いナイヨウとなっています。
ほんでもって。。。
話は
カナダのトロントに
ルービンシュタインが演奏旅行に訪れた際
グールドが楽屋に赴いて
アーサー王(Arthurなので)と
ホテルで会う約束をしたところから
始まります。
結局その約束が実現したのは
10年後だと書いてますが。。。(遅いっつうの)
ほんでもって
始まり始まり~~~!
ちなみにA.R.はArthur Rubinsteinの頭文字
G.Gは文字通りGlenn Gouldです。
最初はMrs. Rubinsteinも登場します。
A.R.: I'm taking this suite for the time being – for my stay in the United States. We used to keep an apartment in New York, but I am a born hotelier. I am a hotel man. I married only when I was forty-five, and I have always lived in hotels. I love them.
Mrs.Rubinstein: [serving Caffee]: You know something? So do I.
A.R.: You have the possibility of room service, breakfast in bed. In an apartment, you don't have such services, and there is in a hotel a certain ani…anim…
Mrs.R.:Anonimity.
A.R.:Anonimon-what's it again?
Mrs.R.: Anonimity, my darling, anonymity.
A.R.: That's it. There's certainly that in a hotel.
G.G.:I'm a motel man myself. In my opinion, the motel is one of the great inventions of Western man. The idea of having one's bill to society paid in advance, of having the option to check out whenever you feel so inclined – I think that's a great psychological gift.
I have a couple of of motels that I go to twice a year or so along the north shore of Lake Superior – a fantastic route, the most extraordinary scenery in central North America.
A.R.: Lake Superior ? The north shore?
G.G.: Yes. There's a town every fifty miles or so. Most of them are lumber towns or mining towns, and they have an extraordinary identity, each of these towns, because they have all grown up around one industry or one plant that has built up the town.
A.R.: A sort of hierarchy, then?
G.G.: Yes, yes indeed. They 're run paternalistically, and being there is like taking part in a scene from Kafka. But I go there to a motel and write for a few days , and if I could arrange it, it's really the sort of place in which I would like to spend my life.
A.R.: You see, this is something that I have understood about you from the first moment when we talked. You remember my first question was " Why don't you like to play?" I knew about you a long time before you came out with the " Goldberg" Variations – I was vastly interested. But suddenly you just abandoned the field, so to say, and that was a tremendous astonishment. It was very strange, and I 've thought a lot about it because it is a great loss.
G.G.: Records don't count?
A.R.: Of course, of course, they count, and radio and TV, but they all deprive us of that personal impact that I too, after all, need. But I have the feeling you will come back to it, you know.
G.G.: Oh, I 'll never go back to giving concerts.
A.R.: I would think so.
G.G.: No, no.
A.R.: Think of my words.
G.G.: I will, I promise. But I also promise that if this is a bet, you will lose it.
A.R.: But was there never a moment when you felt that very special emanation from audience?
G.G.: There really wasn't. There were moments when I felt I was giving a good performance, but…
A.R.: But you never felt that you had the souls of those people?
G.G.: I didn't really want their souls, you know. Well, that's a silly thing to say. Of course, I wanted to have some influence, I suppose , to shape their lives in some way, to do " good, " if I can put an old-fashioned word on it, but I didn't want any power over them, you know , and I certainly wasn't stimulated by their presence as such. Matter of fact, I always played less well because of it.
A.R.: There we are , absolute opposites, you know. We are absolute opposites!See, I will tell you something. Don't laugh at me , please, because it is ridiculous , maybe, but I cannot help it. Yo see, I have a feeling that we have a power in us. You know , there is always a word that nobody has been able to explain, there is no expliqué – nothing – to lead you toward an answer as to what it means, yet all the languages use it so frequently that it has become an everday word. The word " soul ," " l'ame", "anima" – what the hell is " anima"?Where is it?
to be continued to the next blog chapter....
面白いですよね
グールドはあるときから
一切演奏活動を公衆の面前では
行わないことを決めた
不思議な(?)ピアニストですが
その彼がこの「演奏会をするしない」について
かの大ピアニストと議論しているのは
非常に興味深いわけです。。。
そしてまた
前回「マーラーの手紙」でご紹介した
エッカーマンとゲーテとの対話の中で
ゲーテが語る古いと新しいの話
ロマンテイックとクラシックの話に
共通する話題へと発展していきます。
次回を乞うご期待!